A live masterclass session with industry leaders, exploring one of the fundamentals of Japanese Beverage Culture. Presented by the UKBG.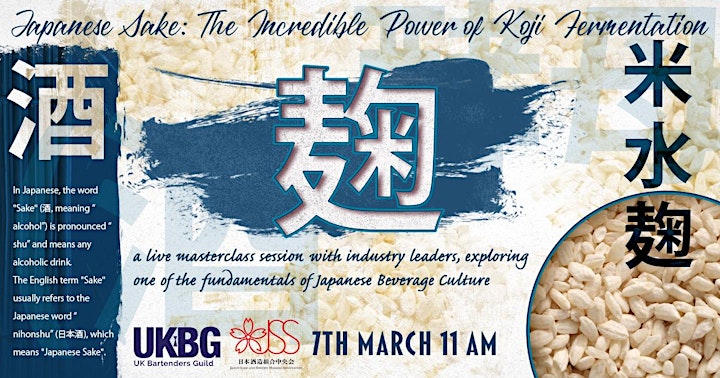 We have been able to increase our online event capacity and have released an additional 350 places for this event!, sign up to the UKBG Newsletter, and we'll let you know about future events and ticket releases!
The UK Bartenders Guild is proud to welcome five distinguished industry guests to lead our first livestream session of our KOKUSHU! 國酒 (Japanese Alcoholic Beverages) season!
Koji is one of the most important food and beverage ingredients in Japan, used in many Japanese beverage and food fermentation processes. From Sake, Shochu and Awamori, to miso, soy sauce, mirin and rice vinegar – its applications are wide-ranging.
Our session focuses on the story of Koji 麹, it's cultivation and and how different strains create different taste and aroma profiles in Sake – as well as going into tasting notes for bartenders.
We welcome our guests:
Akemi Yokoyama, certified Koji Educator, trained at the prestigious Koji Academy (JP), a celebrated London-based Japanese chef as proprietor of Gohan London, presenter and culinary instructor;
Miho Komatsu, a JSS Academy Graduate, Sake educator for WSET, IWC Sake judge, and Director of Global Sales and Marketing for a leading Japanese Sake producer;
Jun Ogawa, Shochu and Awamori specialist and educator.
The first twenty 'early-bird' registrants get a FREE companion Sake taster pack, to accompany the livestream tasting session. Don't miss out! NB: This offer is only available in the UK, as we're unable to ship packs outside of the country.
The UK Bartenders Guild, founded in 1934, is one of the oldest surviving British trade guilds that represents the interests and welfare of bar workers in the UK. We were a founding member of the International Bartenders Association. Currently, membership is free for members of the bar industry and provides access to a number of masterclasses, product demonstrations and most importantly – a community of likeminded souls. Learn more on our website.